Early in October I took my first workshop in precious metal clay (PMC). I have researched PMC workshops a lot over the past several years and I've not found any very close to me here in Evansville, IN. So, I decided that I was going to take a PMC workshop and since I'd have to travel some distance to get to one, I might as well pick a really good one. I mean, pick a really amazing artist from whom to learn. I've looked at works from one particular metal clay artist more than any other (and there are some really great artists out there) and I'm always in awe of the beautiful pieces she creates. Celie Fago. I picked one of her workshops: Hollow Forms and Keum Boo. Luckily for me, I was able to get a spot, as her workshops are popular and pretty small.
Celie lives in Vermont. I'd never been to Vermont. I've been to Maine, Connecticut, NY, Rhode Island… but not Vermont. And early October was sure to be beautiful there during my favorite season of Autumn. I flew into Logan International Airport in Boston. Ugh, I'd never driven in Boston traffic before either. I thought that tunnel after the airport would never end! But with the help of my trustee maps app, it wasn't too bad. I stayed in an Airbnb in Randolph, VT, which was only about 20 minutes from the workshop. The owners were super nice and it was a neat old house they were renovating. The little towns were so quaint nestled into the hills. And much of the time I was there, it was a bit drizzly with mist hanging over the colorful foliage on the hills.
Now some of you may remember, because I've explained it to a lot of people and it's mentioned on my website, what Keum Boo is. It is an ancient Korean technique of fusing very thin gold foil to silver. I have been using this technique with my jewelry for a couple of years now. But there's always more to learn. I knew Celie would teach me more about this technique. And she did. I bought her book about this technique before I ever tried it. Included in this book was how to make textures from photocopies. I tried it a few times and was able to get some textures I could use but they could have been better. Fortunately, making textures was also included in this workshop so I learned how to properly make them so that I get better impressions. Because the thing about working with metal clay is that being that it's actually clay, it takes textures really nicely. And I LOVE texture!
The other students, all 7 of them, were really nice. It was wonderful for us all to share tips, materials, and resources. And many laughs:) They came from all over the US. Celie was lovely, generous, endearingly quirky, witty, flexible, and patient. She was an amazing teacher. She gave plenty of one-on-one instruction when needed or requested. Her demonstrations for techniques were entertaining and easy to follow. We were able to stay after the workshop ended to continue working each evening, which was really nice. I found myself wishing I could spend a lot more time in this environment of creating and sharing with others that were also creating with PMC. I told my husband when I got home that we needed to become wealthy and just spend our days taking workshops, creating, and traveling.
The night before I left Vermont, I got to visit with a couple of friends in Cabot. My husband and I have known them for several years and it was great to see them on their turf for a change. They live in a renovated old school house chocked full of character and charm.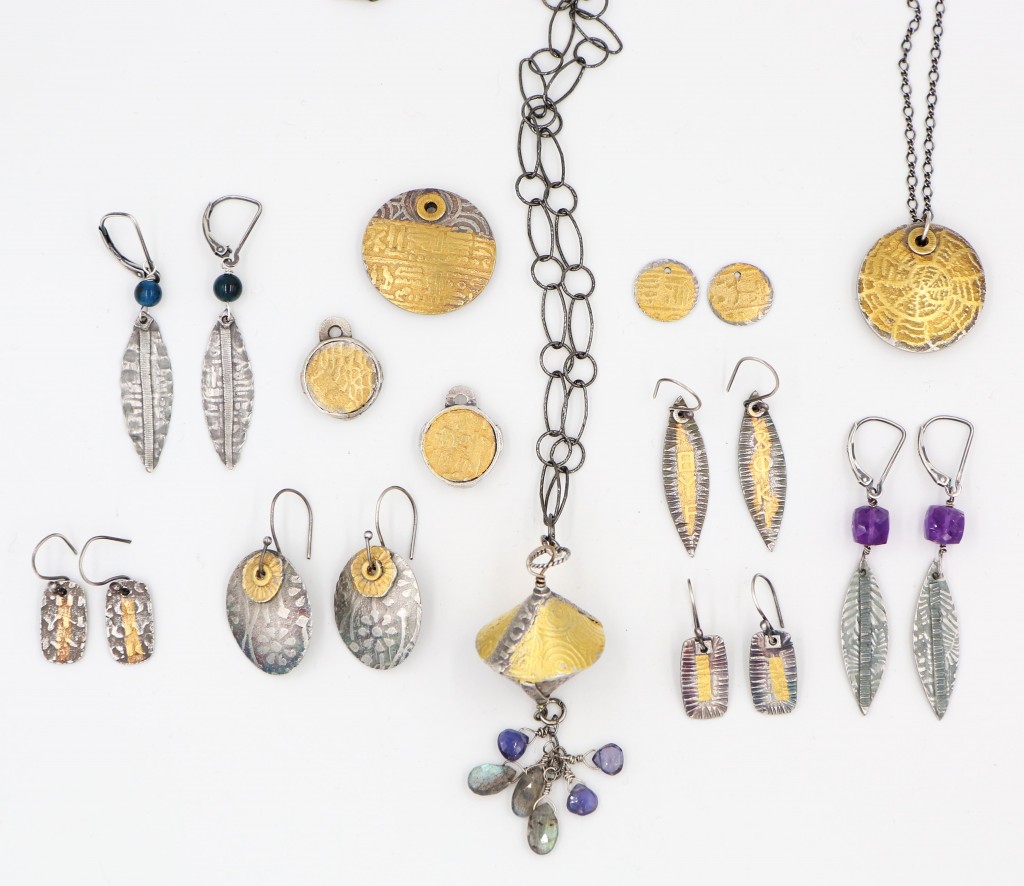 By the end of the workshop, we all had made some very nice pieces and had attained some great skills to continue practicing. I could hardly wait to play with the textures I'd made and challenge myself with some new ideas inspired by seeing some of Celie's wonderful creations in person. And I even splurged and bought a necklace of Celie's creation. I feel like I'm carrying a bit of Celie mojo when I wear it. And that couldn't hurt!
Check out Celie Fago's work: http://celiefago.com/